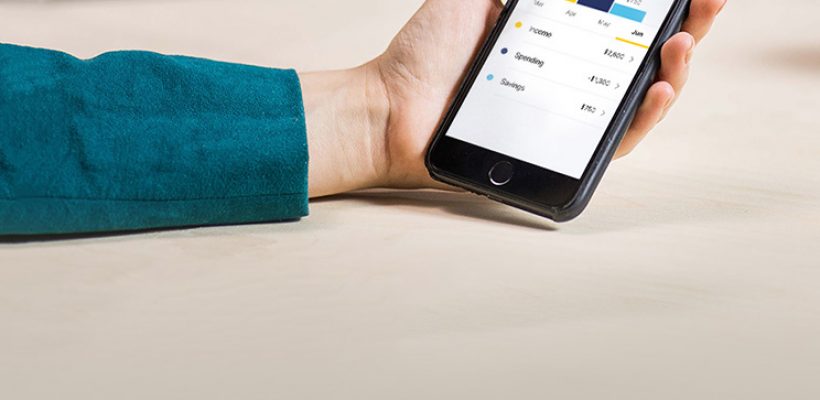 Having online presence is, altogether, justified. And, developing a mobile-friendly website is one thing, but a mobile app is another. According to a report (2018), people spent 90% of their mobile usage time on accessing different apps.
Right now 'Mobile App' is the trend, so if you want to hook up your customers, you got to walk with time. In order to rule the current market, businesses need to hire a professional mobile app development company that can offer tailored user-friendly purchasing experiences to customers.
Here are 10 reasons that justify the need of having a mobile app in 2019:
Creating strong brand identity:
Offering the latest features to customers is a way of showcasing a unique brand identity. Having a mobile app is one of such features that helps business build their identity. In addition, once an app is downloaded to a mobile phone, it sits there for a good period. It is easily accessible and also keeps reminding the user to click on it, thereby offering greater chances to convert such users to potential buyers.
      2. Higher customer engagement:
A streamlined mobile app developed by practically enhances customer engagement with your brand and products. You can easily expand your customer base by connecting with users on social media and recommending them to download your App to stay updated with best offers and deals. As your followers on social media increase, your social media reach will expand and ultimately lead to more business.
      3. Simplified purchase process:
Having a mobile app offers some great features like hassle-free shopping experience with simple scrolling access to products, streamlined checkout, and instant electronic payment gateway. All these features smoothen the shopping experience for customers without the need of much customer support.
     4. Superior user experience
A mobile app development company strategically builds mobile apps with customized features that allow buyers with superior user experience. Unlike accessing a website which would rather be messy, mobile apps enable users to enjoy shopping seamlessly. They can navigate through the products and do a lot more with a simple tap.
    5. Loyalty of customers:
Building an app for your business is a simple way of building customer loyalty. An app is the most compelling way to reach your customers and offer personalized experience. You can also implement loyalty rewards program to allure repeat customers, who can redeem their points by following the terms.
    6. Better mode of communication:
Mobile phone apps are considered to be a better mode of communication for their easy to understand features. Your customers get a direct communication channel with your company via a mobile app. For instance, the push notifications easily keep your buyers informed about abandoned shopping carts, arrival of new products, announcement of festive offers etc.
    7. Boosts sales:
Any business that achieves better reach to its customers experiences boost in its sales. A company that builds a mobile app automatically ensures greater reach via various channels leading to increase in sales. The most commonly quoted example is that of Domino's Pizza which enjoyed a 28% boost in its online sales in UK within the first six months of launching an app and, it has been ever increasing since then.
   8. Build customer insights:
One of the most ignored benefit is, you get to collect huge amount of detailed customer data. Analysing the demographics, understanding customer needs, knowing the prospective regions, a business can build its marketing strategies based on customer insights.
    9. Staying updated with technology trend:
Being outdated is no more an option in this competitive world. To beat your competitors, it is essential to be at the forefront in every arena. Especially, when it comes to staying updated with technology, both internally and externally, you must definitely not lag behind. In other words, along with upgrading the internal software your company uses, you must be in a position to show it externally as well, say by having a mobile app!
    10. Saves time:
No doubt apps are easy to access and much faster compared to websites. Sometimes the unusual loading time of a webpage is the sole reason to divert away its users. However, both Google Play and iTunes have set minimum speed requirements for listing a mobile app. So, by having an app developed by a professional mobile app development company, you can ensure your users enjoy faster and seamless shopping experience.
Infographic: 10 Reasons Why Your Business Needs a Mobile App in 2019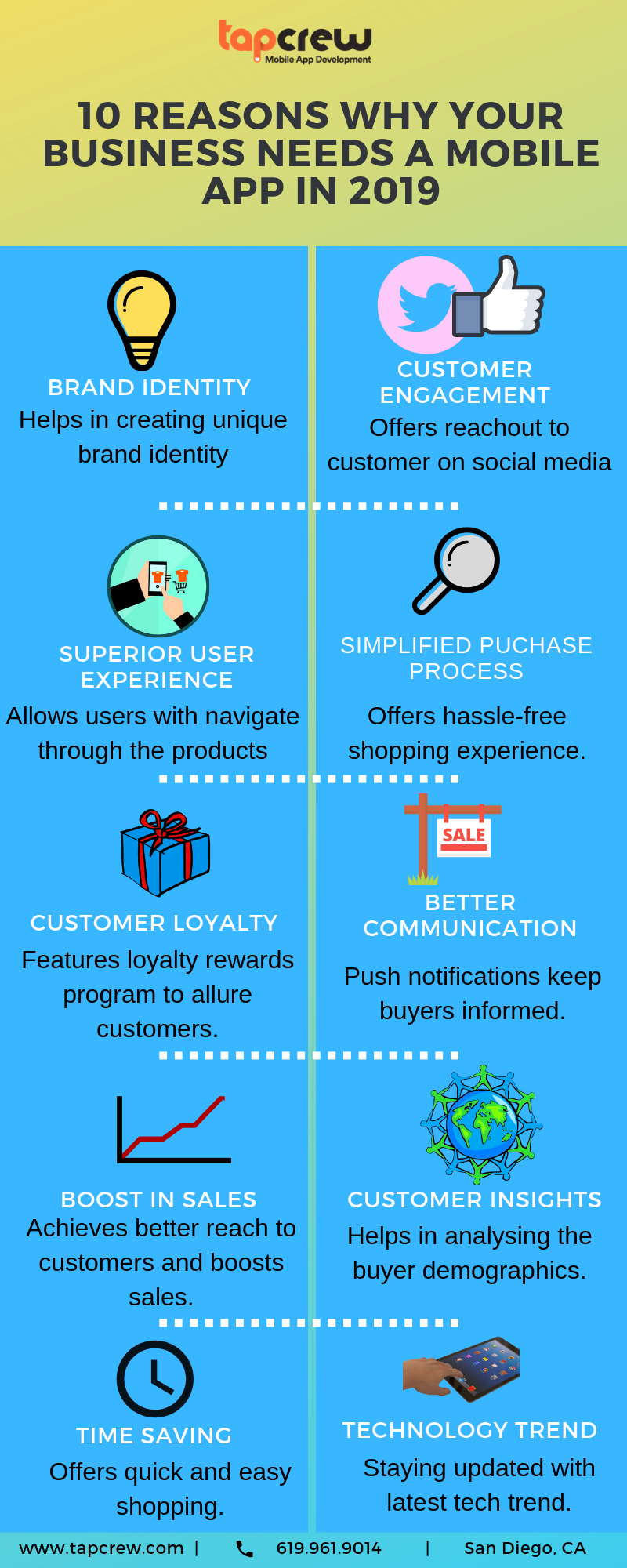 Share this Image On Your Site
Please include attribution to https://tapcrew.com/ with this graphic.