Connecting
Design, Technology
and your business
What We Do
IPHONE APP DEVELOPMENT
In order to deliver excellent performance we have gathered some of the best iPhone App developers to deliver the full range of mobile application development services your business needs. Our iPhone and iPad app development team can assist you in every phase of your project, from fleshing out an idea to submitting a finalized mobile application to the Apple Store, we have the experience to build your dream app on budget and on schedule.  Read More 
ANDROID APP DEVELOPMENT
Tapcrew builds top-rated Google Play apps for smartphone and tablets. Whether you're a seasoned software development professional in need of additional resources or a tech entrepreneur with a great mobile app idea, we can shepherd your project from concept to reality. Our team of tech veterans can guide you through the twists and turns of Android app development. Read More 
HEALTHCARE APP DEVELOPMENT
We work with entrepreneurs and startups in the medical space in areas of cybersecurity, medical technologies that provide immediate access to care, solutions that are FDA/HIPPA compliant, Cloud Services Integrations, Data Analytics, Reporting Solutions, wearables and connected medical devices. We back up our medical clients in their mission to improve patient care with unique software and the finest development methodologies.
UI/UX DESIGN
Great user experience and stylish interface is the essence of a successful mobile app. At Tapcrew, UX design is something we lay a major emphasis on, we believe the best applications are handy, simple, and highly engaging. Our designers are leaders in solving complex business challenges while giving users simple and memorable experiences.
Our Approach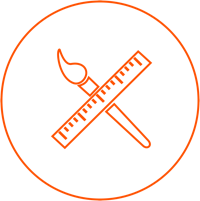 Discovery Phase
Every decision we make is based on research. Before creating any mobile application solution we evaluate your business objectives and initial concepts that meet your goals and satisfies users' needs. We examine the competitive environment as well as the technological landscape to develop a comprehensive list of features and project requirements.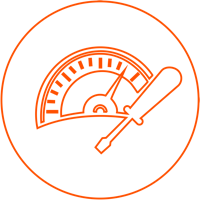 UX and Visual Design Phase
We lay a major emphasis on UX Design, when we have a defined app concept, target audiences and main use cases, it is time to go to the design stage. Here we work on interactive user interface wireframes which allow us to examine app usability, and human interactions. We design user journeys and wireframes to create an unparalleled view of the user experience.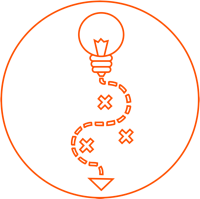 Development and Release Phase
We create highly polished native apps for iPhone, iPad, and Android. In development we stick to the Agile approach which allows you to get a working product very early in the development process to ensure speedy and bug-free mobile app experience. The development process is cyclical and iterative, it goes hand in hand with testing so that any bugs or errors in the program can be caught and rectified at the earliest opportunity.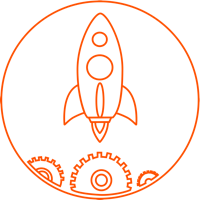 Support and Maintenance
Getting into the app store is only the beginning. Once your iPhone or Android app is launched we are ready to continue to work with you very closely to ensure its continued success and user satisfaction. We pride ourselves in building more than just beautiful apps; our goal is to build full-fledged businesses with everything they need to maintain consistent growth.
Erik Savage, TapLogic, LLC

I have been extremely happy with Tapcrew. They designed the UI/UX of two interactive iPad apps, they were easy to work with very responsive to our needs, and delivered on time and within budget. The first response we get whenever we demonstrate the app to a new user is "Wow! That is really cool." The next response is "Who made that for you?"

Marika Weiss, Realtor at Ascent Real State

There are literally thousands of companies out there, however many are merely empty shells and so begins a long process of deduction. I stumbled across Tapcrew, who after initial discussions I decided to go visit. What I found was an extremely courteous and knowledgeable CEO Daniel Moran, situated in a "real" office, leading a dedicated and talented team. Their enthusiasm and professionalism was immediately recognized. Our experience was 100% satisfactory.

Greg Paxton, KidZoo Books

I was new to the app world. Tapcrew was very helpful explaining every step in detail. Daniel from Tapcrew listened to my concerns and was honest with me if he thought something I wanted to do was not the best way to do things according to current trends or functionality and he offered great solutions. I always had the feeling during development that he cared about the project and wanted it to succeed. Tapcrew helped me develop KidZoo Books.

John Masse, Maslen Entertainment

Daniel Moran is the wizard behind Tapcrew. He is all things apps including "ground up" development, cross-platform integration, blue sky thinking, and is probably the nicest guy to work with that I've ever met. Currently he works with me on the Muffalo Potato development.
Who We Are
Whether you are looking to create a simple app or build the most complex mobile-based software, our skilled and experienced team can get the job done. Since 2009, Tapcrew has provided ongoing support and exceptional service to make sure your product gets the most recognition in the highly demanding mobile market. We are a team of dedicated professionals committed to excellence, integrity and the highest degree of client satisfaction.

Our History
Tapcrew is a mobile app development company creating feature rich apps for iPhone, Android and iPad. Our senior engineers are some of the most talented iPhone app developers with over 9 years of experience developing apps for Apple's device ecosystem. We provide all your mobile development needs, all under one roof.

Startups are our passion
Since the beginning of the App Store and Google Play, We been your design, development partner, and accelerator. Our development team located in San Diego California will work with your startup to build beautiful, incredible products quickly and cost-efficiently. We got into this business because we love startups.

Diverse Team
Tapcrew has a diverse team of UI/UX Designers, Graphic Designers, Mobile app developers, Project Managers and System Architects. The mixture of creative and technical talent allows us to tackle a wide range of industries and software solutions. We go to great lengths to make every client's vision materialise into a usable and marketable reality.
Our Team
Daniel Moran

Founder/CEO

About Daniel Moran

Since 2009 my interest is in developing mobile applications for Apple's device ecosystem.  At Tapcrew I have been building complex world class products for companies of all sizes across numerous industries.

In addition to offering outstanding services to our clients, I strive to launch products that focus on healthcare, mobile device cybersecurity and medical technologies which provide immediate access to care. Our aim at Tapcrew is to improve digital diagnostics, health informatics, personal awareness and digital therapy through wearables and mobile platforms.

Alfred Wallner

Product Manager

About Alfred Wallner

Focused and driven technology leader and innovator with versatile skill set and proven track record of delivering high-performance Internet and wireless software applications. Some of my past accomplishments include the development of complex mobile applications for iPhone and Android, and two patents in the fields of map compression and mobile mapping. At Tapcrew I focus on product performance, optimization, quality control across multiple development environments and serve our client base with technical specifications and reports pertaining to app development processes.

Ricardo Vilardi

Lead UI/UX designer

About Ricardo Vilardi

Handcrafted mobile & web solutions.

When it comes to me there is no hiding of my passion for enhancing the user experience with a touch of simplicity. Clearly a pioneer in the field, I am able to see an opportunity a mile away. I feel that my natural creativity and technical sense guide me through the front-end development, user interface design for the web and mobile. Because of my forward approach I can convince everyone that they too can create anything their heart's desire.  My experience includes over ten years of experience working for different development studios and ad agencies.

Peter Armstrong

Lead Mobile Developer

About Peter Armstrong

Since day one my passion has always been to understand how things work. As a backend/front-end mobile developer I have an innate ability to troubleshoot, analyze, and understand new trends and technologies behind the mobile world… Since 2007 I've been focused on iPhone app development and mobile technologies that solve real life problems and provide value to all.  I consider myself a strategic thinker and problem solver, passionate about improving an application's overall user-experience and ease of use. Eager to learn new skills and technologies.

Misha Moran

Financial Operations

About Misha Moran

At Tapcrew I am responsible for providing financial and administrative support.  I work closely with our clients in the preparation of contract agreements,  payment schedules, and invoicing.

As the office manager I run Tapcrew's day to day operations by assisting our team members so they can stay focused on their development tasks.  I truly enjoy working and supporting our team, it's an exciting journey to experience the development of our in-house projects as well as our contract work.
WATCH THE VIDEO
Real People, Real Passion. We are Tapcrew, a leading mobile development team focused on helping companies succeed through efficient, and advanced technology. Play Video
Designing to Win!
User experience leads technology in the current market ecosystem, we understand that a committed design team is critical for your app's success. Design prototype is a critical part of our app development process and ensures your path to success. Learn more
Premium Products
Our approach and experience in mobile app development have resulted in compelling products that have received numerous awards and were featured by Apple and downloaded by millions of users. Learn more
Get in touch with us
Feel free to give us a call or pop in for a cuppa, We are your team of app developers conveniently located in San Diego.